Tithing Comes First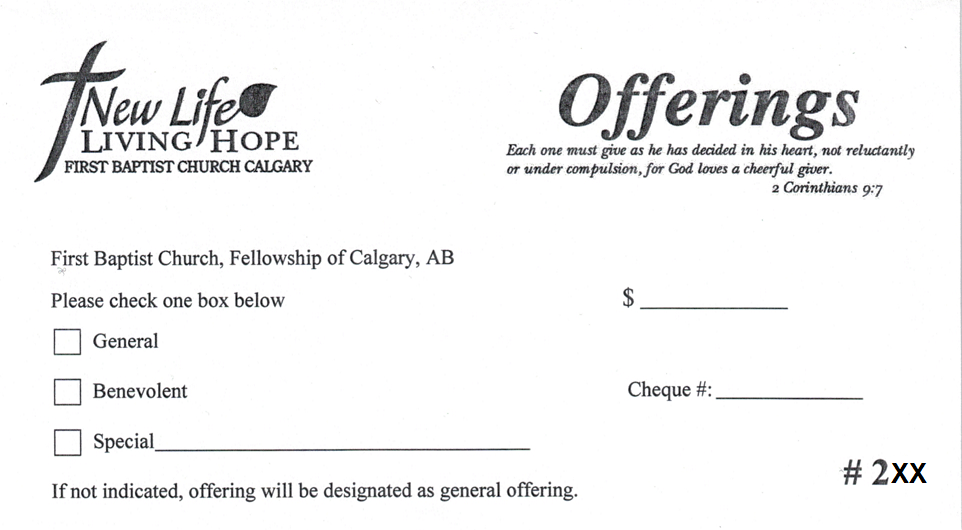 Regular tithing to our local church is not only part of our "Giving back to God" as Christians; it is necessary so that the church can conduct its daily operations. As such it is imperative that we not include gifts to the FBC Foundation in place of, or as part of, our tithing commitments to First Baptist Church. Gifts to the FBC Foundation need to be "over and above" or in addition to our regular tithing.
How Gifts to the FBC Foundation are Used
The only beneficiary of the First Baptist Calgary Foundation is the First Baptist Church Fellowship of Calgary, Alberta (FBC). A gift to the FBC Foundation is ultimately a gift to FBC. However, your gift to the FBC Foundation is handled very differently than your gift to FBC:
Unless a gift is specifically designated to be used as an endowment for a specific purpose, a gift to FBC will be used in due course to fund the day to day operations of the church to accomplish its Mission of: Inviting Faith, Acting in Mercy, and Developing Disciples. These gifts (tithes, offerings, and other gifts) are generally used in the short-term on a dollar-in-dollar-out basis.
When a gift is given to the FBC Foundation, the gift (money) is invested to produce profit over a period of time. The proceeds (profits) resulting from the investment are then used to provide grants to FBC towards specific Infrastructure and Ministry needs. The goal of the FBC Foundation is to provide an average of 5% of the total Foundation funds in grants to FBC annually. So over the course of 20 years, the amount of the original gift is provided to FBC; however, the amount of the original gift still remains in the Foundation fund where it can remain invested to continue providing future grant funding to FBC. The long-term result is that 1 dollar in yields 2+ dollars out.